CO2 Fractional Laser Resurfacing Equipment
CO2 Fractional Laser Resurfacing Equipment
QM Medical

Beijing, China

3~7 Working Days

200 Sets per month
Features:
1)Adopted RF Metal tube imported CO2 laser generator from Coherent Inc, brings maximum results and minimum downtime, Europe CE and ROHS approved, authority of security
2)Fractional + Ultra Pulse + Vaginal 3 in 1 system
3)7 patterns sizes adjustable suitable for different treatment area
4)Korean imported Laser Arm, output energy is more stable, smallest energy reduction
5)Aiming Beam adjustable, insure precise treatment
6)Mini spot size 0.1mm for fast skin recovery
7)Only 1-3 times Fast and effective solve scar and vaginal problem
8)360 degree scanning ability of fractional handle
Model: QM-10600
CO2 Fractional Laser Resurfacing Equipment
QM-10600 is 3 in 1 System : Fractional, Surgical, Vaginal

Applications:
l Traditional Fractional Model and Surgical Mode:
1) Skin renewing and resurfacing
2) Wrinkle removal, skin tightening
3) Acne and scar removal, melasma removal
4) Smooth scars like burn, surgery, traumatic, and stretch marks, etc
5) Remove intractable chloasmas and pigmentation
6) Sun damage recovery
l Vaginal Mode:
1)Tighten vagina –Fast tightening, lasting constriction, tightness to improve 60%;
2)Clean the vagina – Deep anti-aging, young level to improve 80%;
3)Moist vagina – Improving secretion, moisture level to improve 80%;
4)Pink vagina – Vulva rejuvenation, lighten pigment and pinks labia parts, delicate degree to improve 70%
Working Principle:
Unlike traditional laser, fractional laser will only cover part of the skin tissue, leaving the surrounding tissue intact, and then cause a series biochemical reactions inside the skin, thus to reach the results of skin lifting & resurfacing, pigments and scar removal, etc, finally let the skin return to young again. The unaffected areas act as a reservoir for more effective and rapid tissue healing and collagen production, thus lift the skin and removes speckles and pigments


For Vaginal rejuvenation:
Use an articulate arm probe with automatically 360° rotation technology, producing in 50-70℃ at a controlled depth inside the vaginal mucosa - stimulates collagen contraction, restructuring and regeneration; promotes collagen fiber proliferating, remodeling; improves vaginal mucosa microcirculation; increases cell secretion and dynamic reaction function; corrects PH value of vaginal inside; improves the inside environment; achieve female private parts to significant lasting firming, nourishing and restoring harmonious sexual life.

Specialty of QM-10600:
1. USA Coherent brand – Metal RF Tube;
Even output energy, deeper penetration ( 8-10mm under the skin)
Long lifespan: 8-12 years.
Thinner spot: ≥0.01mm.
2. 3 in 1 system, easy and convenient for operation
3. Imported excellent 7 articular optical-arm, easy operated and greatly reduces the energy loss;
4. Best fractional probe- CPG (Central Pattern Generator), big and even energy output, deep penetration;
5. 3 scan modes: Sequence, Random, and Midsplit
6. Various scan shapes which can be adjusted by users, scan size 0.1*0.1mm-20*20mm
7. Ultra-quiet pump used, lower noise but larger water flow;
8. The screen can be folded up and down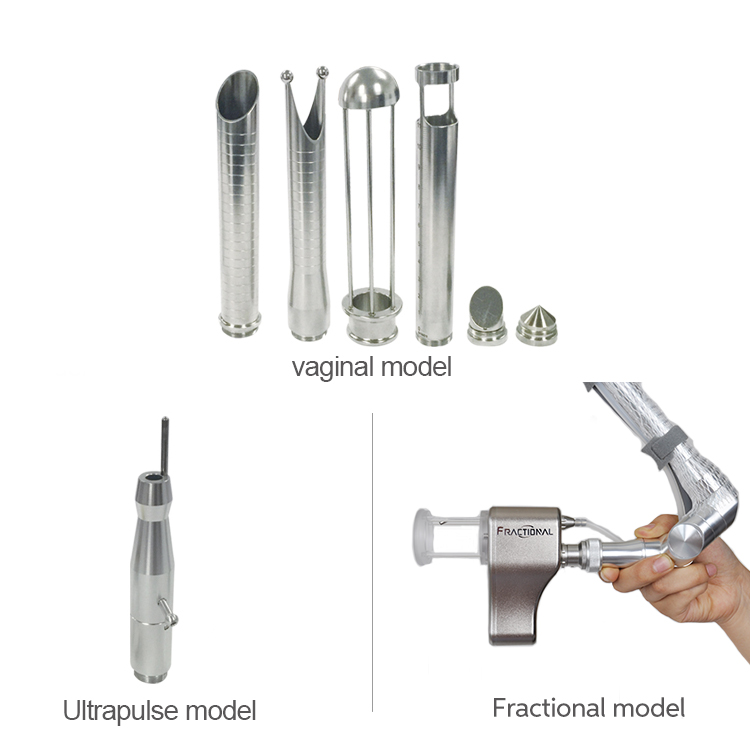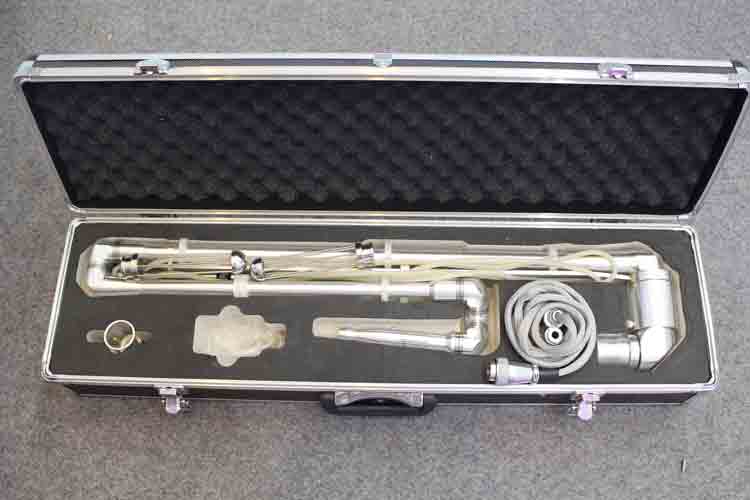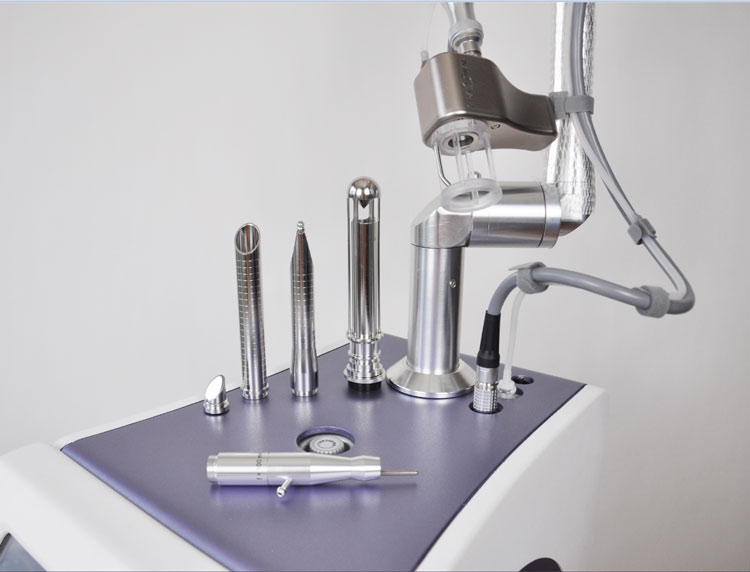 Treatment handpieces: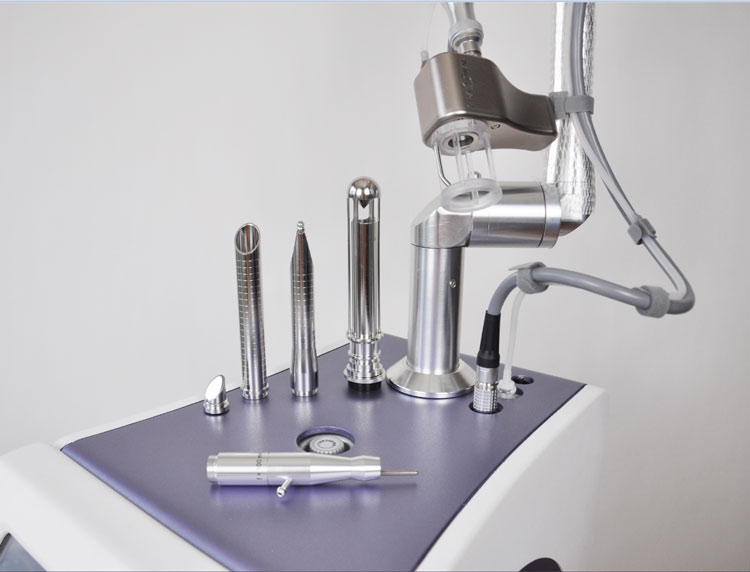 Technical Specifications:
| | |
| --- | --- |
| Laser type | RF Tube (USA Coherent) |
| Output power | 40W |
| Wavelength | 10.6μm, far-infrared laser |
| Display | 10.4 inch color touch LCD screen |
| System & Probes | 3 systems, 5 probes |
| Pulsed Radio Frequency | 0.530W |
| Scan Graphics (7 graphics) | Square, rectangle, round, triangle, oval, 6-diamond shape, line |
| Scan Graphic Size | 0.1x0.1mm – 20x20mm |
| Scan mode (3 modes) | Random, Sequence, the Maximum Distance A&B, Equidistance, Fast Shot |
| Working State | Hyper-pulsed mode |
| Pulse Duration | 0.1-10 ms |
| Pulse energy | 10mj to 130mj is optional for each dot |
| Spot Distance | 0.1-2.6 mm |
| Interval | 0-6s |
| Repeat | 1-5000 ms |
| Overlap | 1-20 times |
| Condenser Focus | F=50mm |
| Beam divergence angle | 0.3mrad |
| Spot Size | 0.01mm at the focus |
| Aiming Beam | Less than 2Mw, 635nm red semiconductor laser |
| Beam Transport Device | 7-joint articulated optical arm |
| Laser Apparatus | Sealed off laser unit stimulated by direct current |
| Cooling System | Air |
| Power Supply | 220V/110V |
| Dimension of machine | 55x45x108cm |
| Package Standard | 2 cases standard: Case 1: 68x56x125cm; Case 2: 80x40x30cm |
| Net Weight | 46kgs |
| Gross Weight | 72kgs |
Before & After: